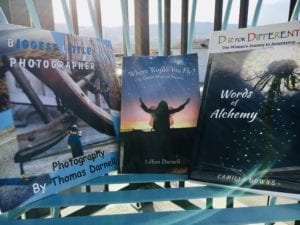 The poetry of nature, the poetry of healing, the poetry of appreciation, the poetry of love … in one beautiful book.
Book Blurb:
In Words of Alchemy, Camilla Downs invites you to walk with her to share her love of Nature and Life through a heartfelt free-verse poetry memoir.

During her daily strolls she is mindfully present as she delves into life in the raw and experiences her heart's observations.

Camilla embraces what happens when she opens her heart and invites the written words to flow. The Alchemy of Love and Healing is what happens.
Praise for Words of Alchemy
"Words of Alchemy, a heartfelt new collection by Camilla Downs, lives up to its namesake in numerous ways. Downs spans the broad range of nature, healing, love, and parenting, while making sure we have a little fun along the way. And the bridge she creates from the mindfulness of how we see the world at large to the poetry of everyday life is certainly worth a stroll or two across its borders." – Thomas Lloyd Qualls, Award-winning author of Painted Oxen
"This poetry collection offers contemplative words, soothing thoughts and peace to the reader." – Sue Bentley, Bestselling author of Second Skin
"Camilla Downs shares truth, vulnerability and wisdom in her Words of Alchemy collection, inviting readers to be inspired, contemplate and dive into her world of self-awareness and growth." – G. Brian Benson – Award-winning author, actor and spoken word artist
"These poems take you on a calm and loving walk through the verses of the author's thoughts. Alchemy is a perfect word for the title as Camilla Downs understands nature; connecting with its magical, medicinal qualities and beauty which she conveys throughout her poetry." – Ailsa Craig, Author of The Sand Between My Toes
"Words of Alchemy is a chronicle of hope. These poems are an encouragement, especially when we are feeling at our lowest, to keep seeking the light that is our way forward, and focus on the real. This collection is a walk through the positive nature of life. Camilla Downs is to be commended." – Frank Prem, Author of free-verse memoir Small Town Kid
Follow this link to learn more … https://camilladowns.com/books/words-of-alchemy/
******************************************************************
Lillian Darnell's book,"Where Would You Fly and Other Magical Stories", was published January 2018.
Welcome to the radiant imagination of Lillian Darnell, a wonderful and unique human being, the kind who comes around only once in every 56,000 births, as she is missing the short arm of her 18th chromosome.
Leave this reality behind and enter enchanted lands awash in mysteries, happy endings, adventures, and inspiration. Come within and discover heartwarming and beautiful tales, woven with love and magic, brought forth from the imagination of a young woman with a different perspective. Lose yourself in wondrous adventures as you follow courageous, enchanting characters, kind animals and plant life, and graceful Mother Nature.
The delightful tales, legends, and poems within these pages were written by Lillian Darnell between the ages of four and fifteen. The stories and poems are mostly edited for spelling and grammar, yet the bulk of the stories remain as she originally wrote and published them to include a few grammatical errors and made up words.
Will a girls dream of becoming a princess come true?
How can sad, mischievous, fearful animals help humans feel emotions?
How did the world come to have color?
Go here to watch the book trailer, watch Lillian on KOLO 8 News, view the interactive Google map of where the book has flown, and purchase  …. https://www.WhereWouldYouFly.com ….
________________________________________________________________
Thomas Darnell's book, "Biggest Little Photographer", was published October 2016.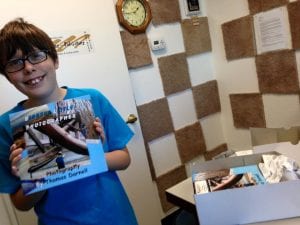 This is a photography book including many of the photographs Thomas took during the 365 day photo a day project he worked on for 1 year of his life … from 8 years old to 9 years old.
It also includes an introduction of how it began, quotes, and a bit of the story along the way. The book will be co-authored by Thomas' mom, Camilla Downs.
Who is this book for: Now that the book is in its second month of being published, we are learning that it appeals to ages from 8 years old to 80 years old … and beyond! It is an inspirational book regardless of one's age and we are finding that photographers love the book too! The reviews listed below will give you more of an idea. They range from a 10 year old to a lovely person in her 60's.
This is not simply a photography book and not a photography book by a professional photographer. This book is about an 8 year old boy, with a passion for LEGO, and a huge heart.
An 8 year old boy who read an article about a professional photographer who had taken photographs of a mini figure taking photographs for 365 days. An 8 year old boy who then asked, "Can I do that?" and then bought a mini figure camera with his own money.
An 8 year old boy who used what he had, a donated iPhone 3G, mini figure pieces already owned, and spent less than $2.00 to purchase the camera piece. So, while you won't find photographs of the highest quality and clarity within this book, you will find love, inspiration, and the knowing that whatever you dream, whatever you want to accomplish, it CAN be done. And you will find that life is what happens between asking, "Can I do that?" and "I DID IT!"
It's about an 8 year old boy who, with determination and fun, completed a ONE YEAR photography project from the time he was 8 years old and ending at 9 years old.
Go here to watch the book trailer, watch Thomas on KOLO 8 News, and purchase the book … https://www.BiggestLittlePhotographer.com.
_______________________________________________________________________
Camilla Downs' book, "D iz for Different – One Woman's Journey to Acceptance", was published February 2012.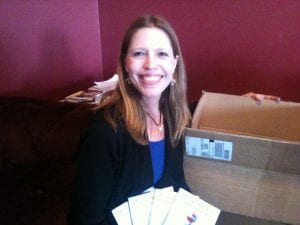 In her early thirties Camilla Downs landed in a different place than she had planned; a place more different than she could ever have imagined. Five years into her marriage with a happy three-year-old daughter, a phone call with a diagnosis from the pediatrician changed everything.
This A to Z inspiring memoir recounts Downs' journey to acceptance of herself, her daughter's genetic abnormality of 18p- and becoming a single mom. Through Downs' realization's we learn that accepting ourselves and our situations is the key to being able to accept others, tap into our vein of courage and live in the present moment.  Downs details her journey with the methods and thought process that led her to achieve true acceptance and genuine happiness. You'll learn ways to redefine your thought processes and belief system by applying the practical, insightful "Tips for the Journey" at the end of each chapter.
Whether you need to decrease stress and worries, or increase self-confidence, this powerful book will help you make changes for the better and realize you are not alone. Begin your new journey today!
Go here to watch the book trailer, the video journey, and to purchase the book … https://camilladowns.com/books/d-iz-for-different/