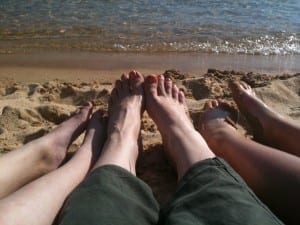 Welcome to our digital scrapbook and journal for our family. I've made it public in the hopes that it inspires others or enriches others in some way. If something I post awakens, inspires or encourages at least one person . . . then it's worth it! Plus, I'm having a ball doing it!
Thomas Darnell is seven years old and in 1st grade. He climbs trees and runs around playing in the sand. He likes testing which direction the wind is blowing and how fast it's blowing too.
Lillian Darnell is eleven years old and loves to read, take pictures and write. She is the inspiration for what you'll read below about me. She has 18p-, a condition that affects only 1 in 50,000 people. Lillian is missing a piece of the short arm of her chromosome number 18.
Camilla Downs is an advocate of Living an Adventurous, Inspired & Different Life, a Special Needs Parent Coach, Motivational Speaker & Author of 'D iz for Different – One Woman's Journey to Acceptance'. Camilla is Mom to 11 year old Lillian and 6 year old Thomas. Lillian is a child with special needs who was diagnosed with 18p- when she was 3 years old. She is available for freelance writing opportunities and guest blogging. Contact Camilla here to inquire further.
As a Special Needs Parent Coach Camilla mentors Moms and Caregivers of children and adults with special needs. She guides you in learning to trust yourself and how to be creative and resourceful. Camilla inspires those she guides to reach peace, clarity and happiness.
Camilla is also the Founder of the Turning Views Foundation which has as it's slogan, Different iz Good . . . Spread the Word.  Her book titled, D iz for Different – One Woman's Journey to Acceptance, was published May 2012. Read more . . .