May 22 2016:
Lillian says she's like a game for Thomas and I …. Except we began on the difficult level and we're progressing to the easy level. Around here, we do things kinda different … I remember someone used to say … "Different iz Good" …. xoxo
May 23 2016:
Thomas was off this morning for the Upper El over night science camping trip with Great Basin. May he be having a fun and fabulous time!!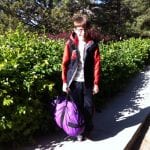 May 24 2016:
I was so excited to pick up
Thomas
from school and his overnight camping trip. Took him for some yummy ice cream eaten with a yummy view at one of our favorite places. Six more days til freedom!!! Wahoo!!
 May 25 2016:
Thomas says that a camp counselor told him he was weird. He responded, "It's a trademark." … I really like that young man. I suggested next time he add that he's magnificent, incredible, amazing, brilliant, extraordinary, fabulous or wonderful .. Take his pick. xoxo
May 28 2016:
Team TLC library day …. Simple, complicated, beautifully illustrated, nonfiction, and fiction. We love books! Everyone takes a cart to the library, don't they? I can't carry them all anymore! xoxo