April 10 2015:
Had to make an emergency stop at Kohls this morning to get Thomas a pair of sneakers before more hiking at camp. His old pair got huge holes yesterday and put holes in his socks!
Thank you to the cashier as when I told him that I didn't have time to look for coupons as this was an unexpected stop, and asked if he could get the price down for me; he did just that! From $54 to $33! Grateful, grateful!!
Thomas is showing off his wound from yesterday that he got while playing kick ball.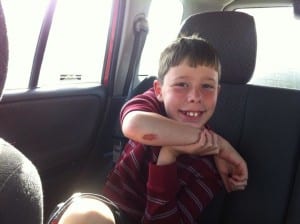 ____________________________________________________________
Stopped in Whole Foods to get some cheese for our nachos tonight. The cashier asked, "What's Chromosome 18?" I happily gave her a mini lesson on DNA and how the C18 Registry came to be. That's the second time a WF cashier has asked me about it. The employees there are ALWAYS so friendly and kind.