July 8 2015
Wonderful walk again last night with Thomas and Lillian. T asked if he could stay barefoot for the walk and at first I said no. Then changed it to yes. So glad I did as I loved watching him splash in the puddles and walk through the sprinklers.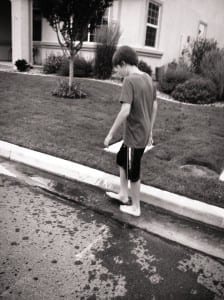 We talked about choices we had made that day and how they affected us and others. Thomas chose to talk about his choice to go barefoot. He is happy with his choice and glad he made it. I asked how it affected others and he said it made us happy to watch him splashing. And Lillian chimed in that she didn't like him splashing her but she did like watching him. So I asked if there were changed he would make in the future. He said he would make sure we were further away next time.
Lillian talked about the choice to lay down before having her bath. It didn't help her stomach so next time she would choose to go ahead and get in the tub as that did help.
I talked about my choice to be silly with the word choices for scattagory game. What you do when you wake up in the morning: Gag, Gallop and Grow. Made us all laugh and the game be not so serious. My other topic to talk about was the choice I made to let Thomas go barefoot. Happy I did as it brought joy to all of us.