December 5 2016:
Mushroom, onion, and garlic soup …. beginning to end. So simple and so delicious!
Candy cane Joe-Joe for dessert. Yum!!!! 🍥
When I cook I don't use recipes. However when I bake I must have one! HA! xoxoxo
For this batch (they are different every single time):
I sauteed:
one medium sweet onion, (chopped in various sizes of small to medium)
2 packages of mushrooms, and (I bought whole and sliced them)
3 cloves of garlic (chopped into small pieces)
in a bit of butter (from grass fed cows) and coconut oil and splashes of water as needed
(All ingredients are organic whenever possible)
Save the garlic for near the end so it doesn't burn. When sauteed to my preference I added spring water and Himalayan salt (lots since I'm not using a broth – it's cheaper with water .. HA).
It's best if it's made the day before consumption as the flavors get stronger and yummier!!
____________________________________________________________________
December 7 2016:
Working in Rosey, our office on wheels, while Lillian is in OT. I think I've mastered working and living in small spaces. xoxo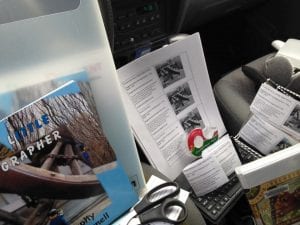 _____________________________________________________________________
December 9 2016:
Last night was a potato and white bean soup and tonight …… vegetarian chili 🌶 …… Yummilicious!!!!! Happy body indeed!!! xoxo
_____________________________________________________________