December 14 2018:
Deeply grateful to another guardian angel for helping to get this started. I can now tackle that first tooth! I will soon have relief from the worst one …. Ahhhhh …. Much, much blessed … 🙏💞💞💞🙏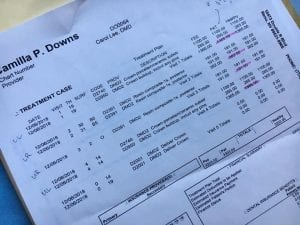 This is a "there's no way I can pay for any of this" plan. "Tell me what is the worst off tooth and put them in order from worst to least worst" plan. HA!
I'm deeply grateful that a friend gifted me the money to at least begin and get that first tooth fixed. I have not eaten on that tooth in way over a year. I keep getting headaches, neck aches, and shoulder aches from them too.
So … never been so grateful to sit in the dentist chair!! January 3rd!! YAY!
I have two crowns (and only 2, thank goodness)! They both have holes in them. The last one listed is not causing problems so it shall wait until further notice.
The first one listed is the one causing problems. I haven't been able to eat on that tooth in a year or longer. Other than those two, and the few cavities, I have healthy teeth and gums. Yay! I have this weird thing where I get gum line cavities that have to be addressed every 5 or 6 years or so.
This IS the second opinion. The visit with the first dentist actually had a lower estimate … Yet, that's because they didn't even mention the tooth that is the main issue! And, they both looked at the same x-rays.
I also didn't feel comfortable at the dentist office I visited initially. I felt anxious and couldn't wait to get out of there! When visiting the second dentist office, I immediately felt relaxed when entering. That is a HUGE factor for me.
I won't be addressing that second crown listed. It is not causing problems. That tooth has had a root canal so I don't feel anything from the hole in that one. Just the top one listed, initially, and will get to the cavities when I can.
I am very in tune with my teeth and gums. Although, I'm not an x-ray machine (heehee), I can tell what's going on. I don't do cleanings; and haven't since about 2007. I only go to the dentist when a specific issue needs addressed.