**THROWBACK POST**
May 11 2014:
This was THE MOST AMAZING food and culinary experience I have ever had!! This is what food is supposed to taste like! Good golly!! I got to take a trip to Seregno, Lombardia in Italy on Sunday night with some very beautiful and loving friends … Brenda, Glenna and Noreen!!
arte italia is delighted to welcome renowned Italian chef Giancarlo Morelli of Ristorante Pomiroeu for three culinary and wine pairing classes May 11 – May 13, 2014. Pomiroeu is located in an old courtyard in Seregno, Lombardia, just outside Milano. The restaurant sits on a quiet corner and combines classic and contemporary charm with a cosmopolitan spirit and welcoming atmosphere, much like Chef Morelli and the cuisine he prepares.
After graduating from the Institute Hotelier of San Pellegrino Terme, Chef Giancarlo embarked upon his career as head chef on the cruise line The Pacific Princess. In 1981, Morelli began consulting for various Italian restaurants throughout the world until he decided to focus on his own culinary creations and opened Pomiroeu.
Over the years, Chef Morelli has won many awards including the "Riso Gallo Risotto of the Year." Risotto has always held a special place for Giancarlo. "Rice is the food of my heart," he says. "I consider rice, with its elemental elegance, a valuable raw material that is a bit like a beautiful, rough stone, and when expertly crafted, reveals its potential and value." It is with that passion and spirit that Pomiroeu has earned the coveted Michelin Star.
The cuisine at Pomiroeu is varied and follows the traditions and authentic flavors of the Lombardia region infused with Chef Morelli's creative genius. His kitchen is part laboratory and part innovation. The Chef maintains a deep respect for seasonal, raw products of the highest quality in order to preserve the authenticity of the dish's origins.
When conceiving a menu, ingredients are evaluated in relation to one another and their ability to create emotions. Says Chef Morelli of his process: "I do not think the plate. I feel it."
The culinary class schedule for each day will include the demonstration and preparation of an authentic Italian dinner beginning with antipasto, primo piatto, secondo piatto and dolce. In addition, fine Italian wine will be paired with each dish.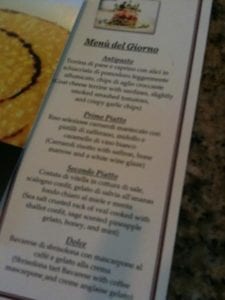 Our menu for the evening. Chef Morelli only speaks Italian so Chef Ivano from La Strada was the interpreter for us.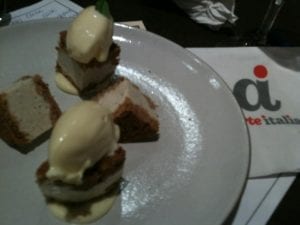 Dolce: Sbrisolona tart Bavarese with coffee mascarpone and creme anglaise gelato …. I have honestly never had gelato this freakin amazing! The PERFECT meal. Did not leave feeling bloated and over full. Just perfect!! xoxo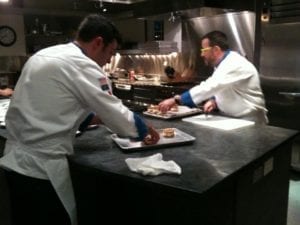 Chef Morelli only speaks Italian so Chef Ivano from La Strada was the interpreter for us.
Secondo: Sea salt crusted rack of veal with shallot confit, sage scented pineapple gelato, honey, and mint … The sage came straight from Chef Morelli's home garden! He brought it with him! Oh My Word!!! This was so very delicious paired with the gelato!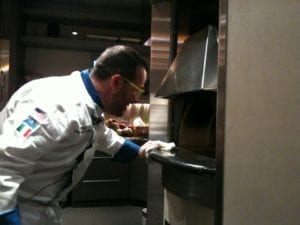 Checking the secondo! Chef Morelli only speaks Italian so Chef Ivano from La Strada was the interpreter for us.
Primo: Carnaroli risotto with saffron, bone marrow and a white wine glaze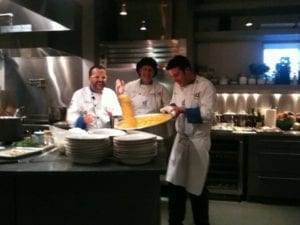 We had a ball cheering on the tossing of the risotto!! Look how high he got it!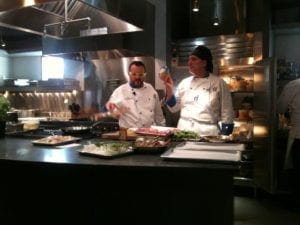 A little lesson on butter and clarified butter!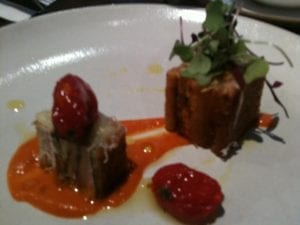 Antipasto … Goat cheese terrine with sardines, slightly smoked smashed tomatoes, and crispy garlic chips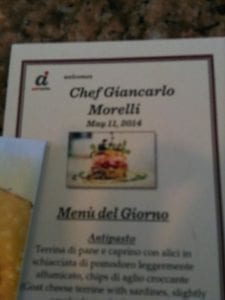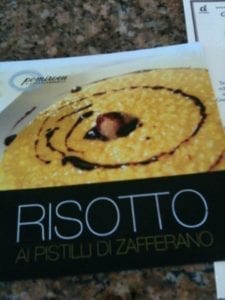 This is what Chef Morelli is famous for … I see why! Words cannot describe how yummy this risotto was … Oh My Gosh!!