April 10 2021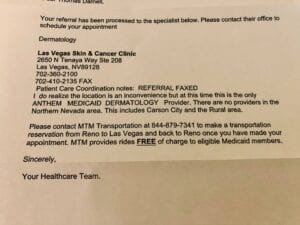 It's been an intense week of insurance mess and advocating, buffered with attending two Zoom poetry readings, getting my first vaccine shot, and April date day with Lillian. The poetry readings were great fun, and our date day was beautiful! 🌷😍🌷
Read on if you're interested in some venting about insurance and advocating (and/or want to know you're not alone). Also, an explanation as to why it's taking me a while to get back to anyone who has messaged or emailed me. Thank you for your patience! Otherwise, hope you're having a GREAT Saturday!
What I would like to know …
Why provide medicaid to folks if barely anyone takes it? (Also, looking at why they don't take it, very poor reimbursement as opposed to other insurance.)
Why forbid people who have this worthless insurance from getting their own insurance, which I quality for, but the insurance agent cannot proceed (due to us having this worthless insurance), as she and I will get fined?
Why forbid people who have this worthless insurance from self-paying providers who don't take this worthless insurance? (I have a specialist who is seeing me for free because I cannot pay her as she risks going against the rules, and I risk losing this worthless insurance. I was willing to pay her, but she cannot accept it. She is signing up to take this worthless insurance, but it is going to take a FULL YEAR to process.)
I give you Exhibit A: A dermatologist referral for Thomas. We live in Reno. This referral is for Las Vegas, EIGHT hours south of here. I had already found someone here, but it was going to be a hassle with two appointments required. However, since the place in Vegas offers tele-health, we will go ahead with them. I'll keep the other appointment for now, as we see how the Vegas place goes. After I finished spouting cuss words, Thomas and I had a good laugh over the absurdity of this, with Thomas proclaiming he wanted to frame the referral, due to the absurdity of it. Hahaha!
Also from Thomas's and (used to be) Lillian's pediatrician's office: Referrals to places I do not want to use. I've been doing this for 19 years, I can pretty much tell if something is going to be a good fit. I spend weeks emailing and calling specialists, therapists, and doctors to find someone who takes the worthless insurance and who doesn't have a two year waiting period.
Also, learning two weeks ago that Lillian's pediatrician will no longer be her doctor. In the middle of a pandemic. I've got to find a new doctor, skilled at working with special needs folks, and once finding this person, educate them about Lillian. In the middle of a pandemic. Why couldn't the office have sent something reminding me that Lillian's time there was coming to an end? Why won't they help us transition?
Remember in December when I was searching for a therapist and a psychologist (for Autism and IQ testing) for Thomas? Thomas has had two sessions with the person I found, and he likes her (had to wait two months for an opening.) He has the Autism screening in August with another person I found – not who the pediatrician's office referred us, neither of these people are).
I had put Thomas on another waiting list for both of these items. I phoned there yesterday to see if Lillian could take his slots on the waiting list, as these need addressed with her also. Success! (Actually, the person I spoke with in December is no longer there, and failed to put Thomas on the list. I spoke with the office manager and she added Lillian where Thomas would have been on the list.)
Thank you to my contact at the Nevada Governor's Council on Developmental Disabilities for letting me share these frustrations with her, passing contact information to me, and just being there for me to vent, at times feeling sorry for myself. I plan on shouting about this to my representatives all the way to the federal government. This is completely f****** ridiculous. I'm aware this may be a waste of my time, but I must do this.
Thank you to her also as I needed to know how I can get Lillian vaccinated without her wearing a mask. We are talking about someone who has an intellectual disability who you cannot reason with, who is not rational about the importance of mask wearing. Thomas and I have worn masks this entire time, and have not gone inside anyplace, other than the grocery store, and to pick up to-go food from restaurants. Lillian has not been inside a place for over a year and a half. Lillian's "not" pediatrician's office was no help, and SRC was no help. I now have a name and contact number for when Lillian is ready.
I've joined a local special needs parenting facebook group in order to share and get feedback. Just did that Friday, and am taking the weekend off from advocating! Back at it next week. If you read this far, bless you! Ha! I now return you to your regularly scheduled Saturday fun! I'm about to tackle some light plumbing. Wahoo!
**************************************************
April 14 2021
I'm deep diving. Today is all about Lillian. I filed a complaint about Lillian's pediatrician dropping her, so we're having one final appointment this afternoon for referrals, etc. Time to revisit the chronic stomach pain, and feet issues. Do any of my 18p- caregivers have information to share regarding these two areas? I'll post in our group, too, and am currently reviewing the study documents. ❤️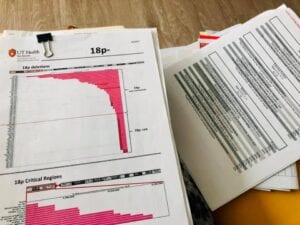 May 6 2021
This afternoon Lillian and I had a tele-health appointment with a potential new doctor for her. It went great! We both like her, and feel this will be a good fit. She had looked up 18p- and did some research before the visit. You know that's comforting to us parents and advocates.
Lillian was a bit overwhelmed as I tried to give the doctor as much information as possible, and we were moving kind of fast. But, Lillian said she likes her, as long as future appointments move slower.
The doctor was moved by my advocacy, and what she had heard about me and Lillian. She is not currently taking new patients. However, wanted to take Lillian as a patient. She's also the medical director for this group of physicians. Whew!! One huge task off of my to do list, and one more worry I can release from my brain!!
**Update – June 26 2021** …. Since this phone call I have been trying to find a neuropsychologist or clinical psychologist in the Reno (or surrounding area) that takes Lillian's fee for service medicaid. Lillian's previous doctor referred us to someone in Las Vegas; which is 8 hours south of Reno … WTH??!!
This is so she can have a mental health evaluation, IQ/cognitive testing, and autism screening. Lillian's anxiety, phobias, fears, and some additional mental health matters have risen to the surface, and I feel it's important to know where she stands on these issues. Next week (week of June 28 2021) I'll begin the search for a therapist so she can start working on these fears and phobias, etc.
I finally found a clinical psychologist in Reno that takes her insurance. There is (was) only ONE in this entire area. (Reno, Sparks, Tahoe, Carson City) When I phoned her, she had just stopped taking clients as medicaid is retroactively taking money from her as they reduced the rate they reimburse, going backwards …. WTF??!! She has to wait until they are finished doing this before she takes additional medicaid patients. I am to call her back in January 2022 to see if she's taking patients again.
I've got Lillian on another waiting list with a psychologists group that takes her insurance, but they are out a year to two years with a waiting list. Lastly, I discovered that UNR has a department that does the autism screening, but not the other testing. Lillian qualifies so I got her on the waiting list which is 6 months to a year.