Thomas went to Kids Zone today. Got to go see a movie and do arts and crafts! I don't think the movie was a G rated movie. Not pleased about that, but now I know to avoid Kids Zone on movie days or make sure ahead of time it will be a G rated movie.
Lillian went with me to a coffee meeting this morning at Kona Coffee. What a great chat with Laura Coger. Laura is a lovely lady with tons of insight and connections to share with me regarding my services as a Special Needs Life Coach and my book.
Then it was off to Trader Joe's for Lillian and I. Still had $20 on our gift card that Kimberly Phipps-Nichol gave me for my birthday. I just love that place and apparently 10:30 am is THE TIME to go to avoid it being so crowded!!
Next up an 11:30 chat with another new friend, Carolyn Smith. Carolyn has recently realized she has a CHOICE in her life and is making big changes. She wanted to chat about my journey up to this point. It was a nice chat with a beautiful lady!
Busy Day!! Then, it was a 1:00 phone meeting with my editor and book designer. YAY! We will go to print next Thursday, March 29th!! So excited!!
Lillian and I picked up Thomas from Kids Zone about 5:15 and headed home. I made dinner, we ate, and then I helped Thomas put together a Lego Roadster!! I LOVE putting legos together with him!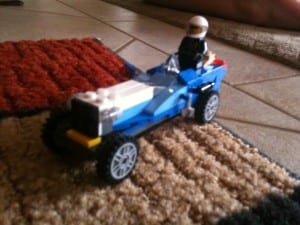 He was having so much fun playing with it, he didn't want to go to bed!