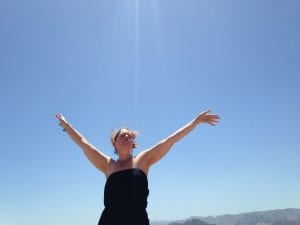 (I wrote a blog post about embracing my fear on this trip. You can read about it here … "A Rapturous Dance With Life".)
July 17 2016:
I did it. I did it. I did it. The Journey Home … Arizona to Boulder City to Las Vegas to Reno … Arrived home a few minutes after midnight. We arrived late as we spent about an hour and a half taking a closer look at Lake Mead and The Hoover Dam.
Car is unpacked. I am sitting on the couch and my head is spinning ….. Last Thursday through Saturday I drove Team TLC 1,700 miles. This Thursday through Saturday I drove Team TLC 1,700 miles …. 3,400 miles roundtrip …. to attend the Chromosome 18 Conference – Reno, Nevada to San Antonio, Texas .. A conference Thomas and Lillian have their hearts set on attending every year.
I'm kinda tired. I'm headed to bed and in the next few days I'll respond to all of the beautiful comments and posts that I have not gotten to over the past week. xoxo …. I DID IT!! … xoxoxo
I forgot to thank Rosey, the car, too. She DID it!! This trip most likely took a year or two of her car life, yet she got us there and back. She had problems with wanting to overheat and nearly lost the driver's side mirror …. She came through though!! xoxo
___________________________________________________________________
July 18 2016:
… And now that we're back, I've got until next Sunday to decide the next chapter for us. Lease renewal time and there'll be a huge rent increase if we stay. Whatever is decided will be decided as a team and it will be perfect.
We already know we can joyfully and peacefully live in a small space and now that Lillian has conquered stairs, we won't have that limiting us! First, a day of rest for me … and then we'll move forward … xoxo
__________________________________________________
July 21 2016:
Something I learned this morning to share …. A timer is NEVER going to go off if one fails to actually set it!
Something else I've learned …. It takes 4 full days to recover from two 1,700 mile road trips completed within 4 days of each other. I'm alive .. I feel like me again! Thank goodness!
On another note, now that I'm no longer a recovering road trip zombie … I've got to make a decision by Saturday if I'm signing another lease where we currently live.
We had a family discussion about it and thought I'd see if anyone has thoughts. We brainstormed different ideas as the rental rates are so inflated.
The moment a place is listed, that's reasonably priced, and I call about it, they already have 4 applications! So … different is what we are thinking, swimming the other direction, not following the pack.
We actually really like the small space we've lived in since last August. It's an 810 sq foot 1 bedroom/1 bathroom condo.
These are the 5 different options we settled on today:
1) Stay where we are (We will have to make other adjustments if we do this).
2) Move to a different and cheaper place in this same area, yet we are open to other areas.
3) Buy a camper and travel around Nevada and surrounding states.
4) We love the tiny houses so if we were to find land that would allow and accept rent for parking a tiny house on it, we'd do that! (or renting one that someone already owns).
5) Housesitting (and pay rent to the homeowner) for those who don't spend all their time here. I know of at least 2 families like this, but don't know if this is something of interest to people.
Would love to hear thoughts and ideas and some good juju our way would be fabulous too! Oceans of love, blessings, and smiles … xoxo