February 26 2018:
Happy Birthday treat for me! 🎉🎉🎉 Dessert first!! Vegan cinnamon maple cheesecake with a courageous cappuccino. Followed by vegan stuffed mushrooms! Yum! xoxo
Digital gift from Lillian … So cute! xoxo (It's interactive so if you click on the image you'll be taken to the interactive card she created using scratch coding.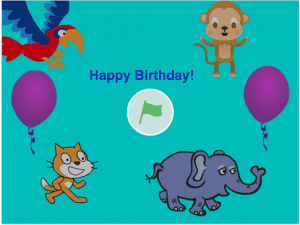 Card from Lillian …
********************************
Reflections.
As I begin my 48th turn around the bright and beautiful Sun, I am called to reflect. Come, reflect along with me if you care to join.
My 47th turn around the sun proved to be the most enlightening and wild to date. I knew in December 2016 that this was to be, for I had called this into my life. I was tired of having patterns from my past, happenings from when I was a child, teen, and young adult, and the thoughts in my own mind keeping me from sharing my essence with others, spreading unconditional love and compassion to all beings and nature, and what I came here to do. I was exhausted.
I knew it was NOT going to be fun. Yet, knew I needed to walk into the internal Hell that had held me captive for nearly all my life. I wanted this. I desired it. Nothing else was as important as walking into those flames, feeling them deeply, allowing them to burn away the anger, shame, guilt, and unworthiness; and allowing the Divine within to transmute those biting and burning flames into Pure Love.
My very FREEDOM relied on ….. Go here to read the rest …
Reflections – I Am Called to Reflect as I Begin this 48th year
March 1 2018:
Birthday treats for me …. Belgian waffle cookie alongside Coconut Bliss dark chocolate ice cream topped with roasted cashews. I seriously think fireworks were actually exploding in my mouth, heart, and mind! WOW!!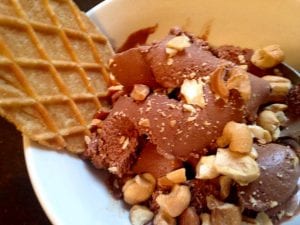 March 5 2018:
Tonight it was Coconut Bliss Salted Caramel & Chocolate topped with cashews alongside a Belgium butter waffle cookie.
Instead of a cake for my birthday last week, I bought three different flavors of vegan Coconut Bliss. I love their ingredient list and that it's vegan. Not to mention that the flavor and texture is creamy and blissful. They must have known it was my birthday because it was on sale!! Wahoo!!
March 10 2018:
Thank you Carolyn R Smith for giving me the royal treatment yesterday. From picking me up in your silver chariot, flashing me your beautiful and bright sunshiny smile, requesting I order whatever I want, and making sure they knew it was a birthday dinner for me (belated but still!!)
They were incredibly cute humming happy birthday as I requested they please not sing it. I didn't know they were being serious! Ha! Check out this scrumptious raw vegan cheesecake. Tasted like a banana split! Wow!! Chocolate, banana, strawberry, coconut cream cheesecake!
And. You. The best part. What a wonderful gift you are. To me. To others. To the community. To the world. I love you!