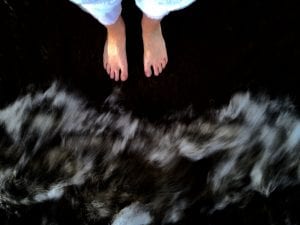 Do you ever feel like running barefoot and free and howling with the moon?  … Sent with howls of love … xoxo
It is her intent to release the discomfort. She is ready to release it and be free. She is ready to live this life from love instead of fear. She is ready to be free. Free to follow her heart. Free to live in peace and bliss. Free to trust herself. Free to live as much as possible from her true Self. Free to listen.
Free to jump. Free to leap when it speaks to her. Free to write what she's supposed to write and share. Free to dance. Free to go barefoot in the moonlight. Free to leave footprints in the sand of life's beach and free to watch them disappear as if they were never there.
Free to experience fully each moment of life with no thoughts of what just happened, what happened yesterday or last week; or thoughts of what comes next or what will happen tomorrow or next week. Free to BE exclusively committed to that which she is immersed in the moment.
Free to sway with the wind. Free to kiss and hug a tree. Free to run her fingers along the tip tops of the grass. Free to take a nap in the sand with toes wiggling and giggling as each piece of sand makes its way through the cracks and crevices of her toes. Some getting stuck to stay for a while and some gliding on through.
Free to smile at all whose eyes hers meet. Free to hug freely and receive hugs freely. Free to let another soul know how much she cares for them without fear of rejection and abandonment. Free to receive unconditional love. Free to give unconditional love. Free to BE unconditional love.
Free to write for …. Go here to read more