May 24 2018:
Tomorrow morning is the beginning of the Team Member L and Romano Duo adventure! Lillian is riding back to Surprise, Arizona with mom and Frank for a vacation for her!! Which means respite for me!
It's been nearly 3 years since I've had respite from Lillian. I'd be telling an un-truth if I said I wasn't a tad bit excited. And, I know she is too!! May the force be with The Romano Duo … And all the Angels too!! Photo from September 2015
May 25 2018:
They're off!!! Let the "almost" respite begin for me ….. As I have Thomas here with me. 😜
Lillian's gonna have a great time!!! Yay for her to get a vacation!! She gets to spend nearly 2 weeks with The Romano Duo in Surprise, Arizona!! Wahooo!!!
May 27 2018:
Sent an hour and a half after she left on Friday!! Ha!
I am incredibly happy she's getting this time with The Romano Duo and I'm getting a break.
After nearly three years straight of her needing me, talking to me constantly, and being me walking buddy; I'm bouncing back and forth between thinking I should be doing something, being relieved that I don't have to do anything for her, feeling sad because she's not here, and feeling free because she's not here. Crazy stuff …. Yet, all good stuff!!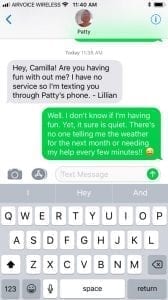 May 30 2018:
I'm as excited about this as Lillian. Well, maybe almost as excited. Turns out one of our Chromosome 18 friends, The Bakers, live near Surprise, Arizona!!!!! Katie came over to the Romano Casa and spent a few hours swimming and hanging out with Lillian.
The Bakers were one of the first families we became friends with at our first conference in 2009 in Vegas and every conference thereafter. Katie deemed herself honorary big sister to Lillian. One of the major reasons going to conference is so incredibly important to Lillian. So beautiful!!!xoxo
June 3 2018:
She's been swimming and watching movies and eating donuts!! Lillian is having a great time with The Romano Duo.
June 10 2018:
She's back!!!!! And she's cracking me up! "We stopped at the alien store …… " Only driving through the Nevada desert!!! And, "Patty and Frank say a lot of cuss words under their breath." And, telling on herself. "I stayed up all night long while I was there. I stayed up till 2:00 one morning."