December 10 2020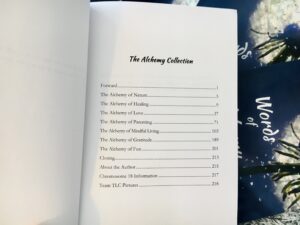 New Interview! This past July I took part in a written interview with Sonya of "A Lover of Books". Before the interview could post, Sonya made a decision to retire from book blogging, which I fully understand. Book blogging can be intense! I figured I would share it here as Sonya put much time and effort into going back and forth with me, and pulling it together.
Sonya and I chat about having no idea what I'm doing, being a nature inspired poet, not intending to publish my poetry, how writing has been therapeutic, Earth dancing, and three positive words. Join us …
First of all can you tell me a bit about your latest book, 'Words of Alchemy'?
Absolutely, Sonya! Words of Alchemy is a free verse poetry memoir that covers six years of my life, from 2013 -2019. Writing has been and is therapeutic for me, including writing poetry. When I began writing poetry in 2013, it was a way of processing life experiences, healing, and getting things out of my head. Words of Alchemy is a poetry collection of these events.
What do you hope readers will get out of this book?
It is my hope that readers connect with the content, causing them to laugh, shed a tear, or nod their head in agreement. If something I have written helps another to view a situation differently, opens their eyes or heart to a new way of experiencing life, or simply lets them know they are not alone, I am truly blessed.
Is this a book people can turn to when they need to relax or are after some inspiration? ….
No Idea What I'm Doing While Earth Dancing With Three Positive Words – Sonya Interviews Camilla