**THROWBACK POST**
September 23 2013:
Tonight Lillian was showing me the Fairy Book of Jobs. I asked her if she thought they needed a Reiki Fairy. She said "Yes" and told me my next step is to write down that I'd like to be a Reiki Fairy and turn it into one of the teachers at The Fairy College. They will get back to me. Lillian said that would be a really good thing there. She also said she may see me there later as she is going to the Fairy Library and it is at the college. Hope y'all have some sweet dreams on that note!! HA!!! xoxo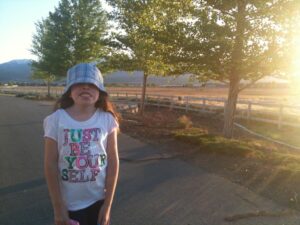 (May 2012 Photo of Lillian, on one of our walks)
December 2020 Note: Lillian was 12 years old when this happened. For quite some time, every night while she slept she visited Fairy Land. That's what this conversation was about. Such sweet, sweet, memories!