January 8 2022
Basil has been with us a month now. I finally got to take my own photo of him last night.
He's making great progress. He actually lets me see him now, will play with his favorite toy with me, has smelled my fingers and toes, and doesn't run when he hears my voice.
He's getting more comfortable with Thomas, letting Thomas touch him, and coming out from under the bed more often.
He's also getting more brave, and mischievous. He's been exploring the house in the middle of the night, leaving bits of his findings on the living room floor.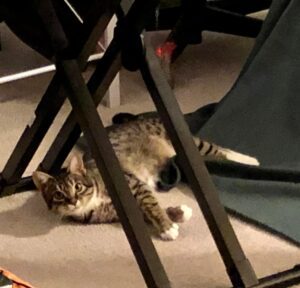 Look who came into the living room last night, while I was still awake! 🥰🥰🥰 I think he would have stayed longer, but he heard voices coming from outside, and got spooked.