**THROWBACK POST**
July 14 2014:
Another Summer Sunday of the #TeamTLC #purge and clean fest is coming to an end with the garage checked off!
Five years is long enough for the beautiful tea set I got in England back in 2000 and the set of China from my mammaw Downs. Bringing em out to play! What the heck good are they doing packed up where no one can enjoy them? Don't give a flying pickle if they get broken … they are just dishes, after all. Getting rid of the 2nd set of dishes we have been using. Goodwill will put them to good use! Love it when I'm in the mood to get rid of stuff!
July 14 2012:
Family Swim Time!!! YeeeeHaaaww!!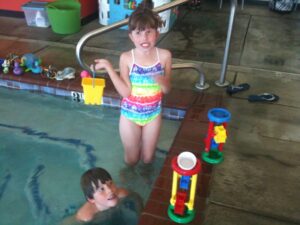 ______________________
July 14 2011:
I absolutely love and adore this awesome and perfect Little City I get to call home. Love her beauty and the amazing people who also call her home!
_______________________
July 14 2010:
Just got done with the Sibling Panel at the Chromosome 18 Registry & Research Society Conference ~ what an awesome group of kids, teens and young adults ~ Cream of the crop ~ Words can't even describe the emotions ~ Absolutely must start bringing Thomas to this conference too! Beautiful!