**THROWBACK POST**
December 30 2013:
Thank you, Thank you, Thank you …. from Team TLC! "Generosity brings happiness at every stage of its expression" from a book I'm reading right now titled, "Invisible Acts of Power" by Caroline Myss. Great book! …. and this quote too, "We do not believe in ourselves until someone reveals that deep inside us is valuable, worth listening to, worthy of our trust, sacred to our touch. Once we believe in ourselves we can risk curiosity, wonder, spontaneous delight or any experience that reveals the human spirit." -E. E. Cummings … Oceans and Oceans of gratitude and love! xoxo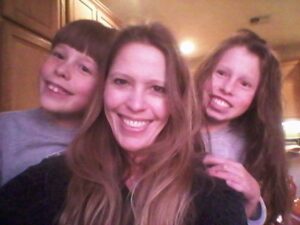 I'm going out to throw snowballs with a young man who shines so brightly! YAY!! So blessed I get to be Thomas' Mom!! I'll probably last 10 minutes before my face freezes!
__________________
December 30 2011:
Just got home with the ham hocks and black eyed peas for News Years Day!! My Momma would disown me if I didn't have that on the 1st! Thomas and Lillian eat an obligatory one pea and chow down on the ham hocks! Now if we could just get that Star Trek transporter thingy workin, she could transport me some of her cornbread . . .
****************
Thank you Maria Kendzierski Barber for letting me come to your house and interview and observe you and Lila and little sister Nora as part of the final project for my certification as a Special Needs Life Coach! Both Lila and Nora are adorable and have wonderful personalities! You are an amazing, kind, patient and persevering Mom . . . Bless you for that Maria! Happy New Year to the Barber family!!!
__________________________
December 30 2010:
Very Noddy (Buckbean Brewing Company) Polska Kielbasa with sweet onions! Yummmmmmyyyyy! Can't wait to sink my teeth into this!