December 22 2022
Dinner tonight was delicious! Stuffed butternut squash drizzled with cashew cream.
The stuffing is basmati rice, pecans, eggplant, green peppers, and oyster mushrooms coated with a sweet, tangy tamari based sauce. I could only eat half (of my half). Very filling.
Dessert. Apple pie with whipped topping. This one is store bought and it's actually very good. Best frozen apple pie I've tasted.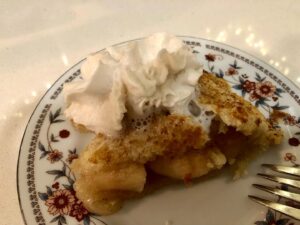 December 24 2022
What a treat this morning! Delicious!