**THROWBACK POST**
November 25 2015:
The pumpkin pie helper!! Such an excited young man!! Let's see how it turns out. Gluten-free and made WITHOUT sweetened condensed milk and made with coconut sugar!! Smells good!!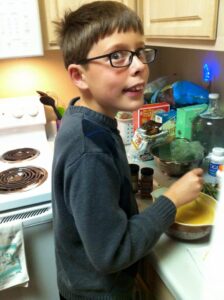 Cranberry sauce helper!! Made with coconut sugar. Oh so good. This will be the 3rd year I've made it with coconut sugar instead of white sugar. It makes the sauce brown but we don't care. It's yum! We have it on ice cream too! Nom, Nom!!
___________________
November 25 2014:
Two puzzles and a "dream" banner today!
Oney trail at Center for Adaptive Riding … Spring 2014. Such a beautiful space!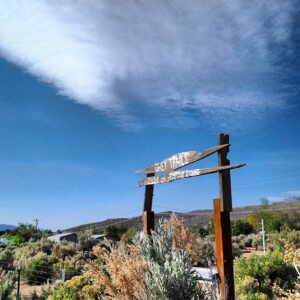 __________________
November 25 2012:
Lillian's gratitude for today:
I'm thankful that we have a Christmas tree and it is so pretty.
***********
Today I am thankful for imagination … one of life's greatest blessings … "Imagination is everything. It is the preview of life's coming attractions." -Albert Einstein …. "Imagination will often carry us to worlds that never were. But without it we go nowhere." -Carl Sagan … "Live out of your imagination, not your history." -Stephen Covey
***********
Thomas' gratitude for today:
I'm thankful for Lillian.
___________________
November 25 2011:
Today I am thankful for simplicity . . .
************
Playin at the park …. Can you stop me if I get scared?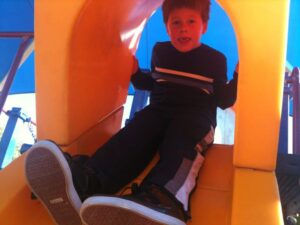 _______________
November 25 2009:
For those who shared in my excitement regarding the AAC App and iPhone for Lillian a couple of months ago . . . Spent some time on the phone this morning with the code developer of the App (Proloquo2Go) ~ We shall see where this leads!