August 14 2016:
Some of the best learning and teaching moments simply sneak up on us and happen! xoxo
A couple of Shining Moments from last week – Sent with love and blessings that you be in the moment and aware of the shining moments that happen in your own life in this upcoming week and always … xoxo
I took Thomas with me to the post office on Thursday and let him do the talking and paying. The lady behind the counter said at least 3 times how awesome she thought it was that I am teaching him how to mail something.
She said so many of the teens and young adults don't know how to mail something. I had not really put thought into this. I had not pre-planned this post office trip with him so that he could learn something. It just happened naturally as we were standing in line. What a blessing!
We went to Trader Joe's on Wednesday. I told Thomas and Lillian they could pick out a cheese while I got some other things. They spent a long time looking at all the cheeses and they know we don't have much money right now.
I could hear them discussing it and in that moment time stood still and I knew everything is perfect, happening perfectly, and that everything will be okay and perfect! They chose one that was inexpensive but also a cheese they wanted. xoxo
_____________________________________________________
August 18 2016:
Reached another milestone today for Thomas' book, Biggest Little Photographer! I had intended to be further by end of day tomorrow, yet, it's great progress! We tremendously appreciate the shares, likes, and comments whenever I post about it here or on one of our blogs!
It helps us incredibly when we receive pre-orders. If you were planning on getting a book, come on over to Thomas' website and check it out. There's a cool 2 minute book trailer too! xoxoxo
(Here's one of the photos in the book in honor of Library Day this weekend!) Due out mid to late Fall 2016 and will make awesome birthday or holiday gifts (or even Thank You gifts if you want to order in bulk). Here's the link:https://thomasadarnell.com/author/
And here's a bit about the book … " …. This is not simply a photography book and not a photography book by a professional photographer. This book is about an 8 year old boy, with a passion for LEGO, and a huge heart.
An 8 year old boy who read an article about a professional photographer who had taken photographs of a mini figure taking photographs for 365 days. An 8 year old boy who then asked, "Can I do that?" and then bought a mini figure camera with his own money.
An 8 year old boy who used what he had, a donated iPhone 3G, mini figure pieces already owned, and spent less than $2.00 to purchase the camera piece. So, while you won't find photographs of the highest quality and clarity within this book, you will find love, inspiration, and the knowing that whatever you dream, whatever you want to accomplish, it CAN be done. And you will find that life is what happens between asking, "Can I do that?" and "I DID IT!"
It's about an 8 year old boy who, with determination and fun, completed a ONE YEAR photography project from the time he was 8 years old and ending at 9 years old."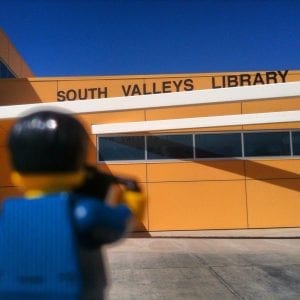 __________________________________________________
August 19 2016:
Field trip included library day. Now up there with our other favorite library!!! Second time here and we love this place!!! Lillian was absolutely there … somehow I missed getting a picture of her! xoxo