February 12 2018:
Tonight it was Bingo!! Yes! We are set! I've unpacked the UNO and Bingo. No need to unpack anything else. HA!
I actually won't be unpacking that much more. We just needed room to move around!
We are using many of the boxes that are filled with books as a "wall" in the bedroom so that Thomas and Lillian each have their own "room". These two beings wanted their own room, and by damn I have made it where I am and with what I have. Even if it's bookshelves, boxes of books, and curtains! Will post a picture as soon as I get a few more boxes out of the way. Wahoo!!
February 13 2018:
Homeschool bowling with Thomas this afternoon. Brought back fun memories as we used to come here often when they were younger. xoxo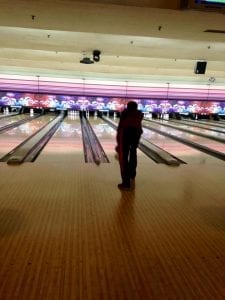 February 13 2018:
More treasures discovered while unpacking. Looks like 1984 was the first message received that It's an inside job.
Figured this was the perfect opportunity to go through the keepsake box! Found some stuff to get rid of. YAY!! I LOVE lightening the load! xoxo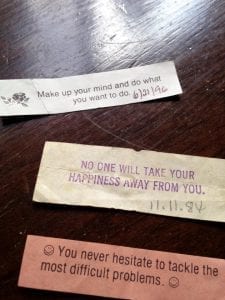 February 14 2018:
Yesterday morning while I was the only one awake and had not yet opened the blinds, I spotted this odd shaped rainbow on the wall (top left photo).
I looked behind to see where it could be coming from and the only opening to the sun outside was the tiny peephole across the living room.
I walked over and held my finger in front of it and that is indeed what was creating this interesting shape.
Then I just had to take bunches of pictures of the peephole! Ha! I adore Nature, the sun, the light, and the amazing colors. xoxo
February 14 2018:
I got to spend two hours today with this amazing soul!! His name is Mason, yet I'm calling him Marvelous Mason.
Marvelous Mason was born deaf and lost his eyesight about two years ago. He's 9 years old and is the most joyful being I have ever met.
He wags his tail joyfully and loved playing tug of war with his stuffed Scooby Doo! He likes it to be thrown so he can fetch it.
It takes him a while to find it as he checks around the room smelling for it. He is not as familiar with his home here so he bumps into the wall and chairs when he's walking around. Still staying joyful and wagging that beautiful tail!
I am deeply inspired by Marvelous Mason. As I watched him find the couch and walk alongside the couch knowing he wouldn't bump into anything.
I get to spend another two hours with him next week too. His human can't leave him alone due to his anxiety from not knowing this part time home (as they only live here part time). He's taking it out on the front door and causing a wee bit of damage.
He did great with me there. We played for about 30 minutes and then he jumped on the couch, moved a pillow that was in his way, and took a nap. No attacking the door!
I'm pretty sure Marvelous Mason is sharing a story with me …. We shall see!!
February 16, 2018:
Yogi tea wisdom … xoxo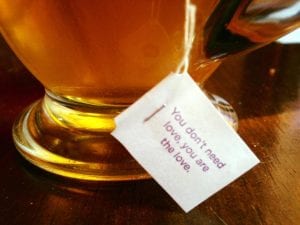 February 16 2018:
Ya know those days when you're morning meditation felt like 5 minutes, and then you have an amazing, off the charts Reiki shaman session that felt like 5 minutes too, and then you go to the grocery store and use 3 forms of payment just so you can pay the tab, and then you come home and check the mail and you receive a surprise early birthday gift of a lotus gemstone chakra pendant?
That's the magical day I've had so far! Wheeee!!! Thank you Momma for the beautiful, shining gift. And the lotus is no longer a broken bird.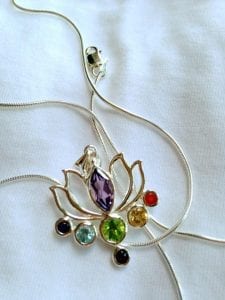 February 16 2018:
And then there's this … While I was at my Reiki Shaman appointment this morning, I missed quite the rainbow show from our amazing crystal friends. Lillian had fun with this one and her shadow. I call her the Shadow Whisperer aka Shadow Fairy. Love this picture she made. xoxo