April 3 2019:
Mmmmm … That was so good!!! I'm in love with this seltzer water flavored with real lemon and ginger juice.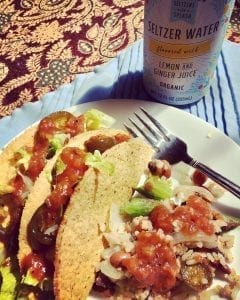 April 12 2019:
Finally, finally, finally got to eat here!! The birthday celebrations continue! Thank you Carolyn R Smith for my birthday lunch!! House of Mexica (Meh-Shee-Ka)
From the restaurant: "Meh-Shee-Ka – A Tribe of plant based Mexica united together to create Heaven on Earth through the powers of food, life, love, & light."
From Me: A full vegan menu with a feel good vibe permeating the atmosphere. Our server (and also co-owner), Marv, was absolutely wonderful with an incredibly humble energy.
We split the asada fries to begin with … WOW!! So good!!! I had a burrito and Carolyn had a chimichanga. It was like a symphony of harmonious flavors performing a lovely concert in my mouth. One I did not want to end.
Thank you Carolyn for EVERYTHING! Thank you for treating me to lunch, to your company, and for treating me like a birthday queen. I love you and I love our friendship. 💜💜💜
(Photo of the building borrowed from Yelp as I forgot to take a photo)