March 7 2020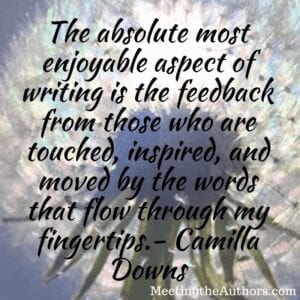 Here it is …. Today we travel to Reno, Nevada, USA to chat with Camilla Downs about how a Swedish actress, going for walks, chromosome deletions, tiny house living, a construction company, being a paralegal, nature photography, Scooby Doo, and tenacity come together to form the ingredients for the alchemy of Camilla's life.
Is there something special you do with your book before sending it to a reader?
I personalize each book with a hand written message, at times including a special message within the book. It's always a little different. Sometimes it's a handwritten message on a small card, others it's a micro short poem or message created from the words of a book destined for the trash.
In addition to that, I offer readings from the book via telephone. I'm happy to do this one on one or on speakerphone to a book club (or in person if you are in the Reno/Tahoe/Sparks surrounding area). This is done at no charge and I'm happy to have discussions after the reading. If interested … Go here to read the full interview …