**THROWBACK POST**
December 6 2013:
Sweet Lillian had a major melt down the other morning. Oh my word! I realize how much Thomas is looking to me to see how I respond and how to respond when she's lost it. There is no speaking to her. One must wait until she has calmed. As she was in her room trying to get calm, I explained to Thomas that she is going through puberty on top of having a decreased ability to control and handle her response when things don't go as she wants them to … due to her chromosome abnormality. At times it is difficult for me to control my response!
What seems to be working during this phase is to flood my thoughts and heart with love and compassion and respond softly. This does not mean I do not respond when Lillian blames me and Thomas for how she chooses to react. I gently let her know that absolutely no one controls what she says and does but her. I give her suggestions like taking deep breaths, counting, going to her room, reading a book, changing what she's thinking about, drinking some water.
Thomas has a great deal of anxiety when Lillian is unhappy or having a melt down. I attempt to show him by my reaction that we want to not let our emotions/attitude be controlled by other people and their emotions. I explain that I know it's difficult at times and that if we are at least aware of this, then we can be more helpful by focusing on a solution when needed. Otherwise, Lillian has had great days all this week! Love and hugs y'all! xoxo
For years I have been making a shift to more mindful living. By no means do I have this perfected and there are times when I'm less than happy with my chosen response! However, when I do offer an "icky" response, I don't beat myself up about it. I take note of it, release it and move on …
I sometimes over react too. I forgive myself, apologize to others and release it. We know that anything we say in anger is not coming from our true selves. Our true self only knows love and compassion. Oceans of love and hugs to all y'all!! xoxo
Honestly, there are times I would like to stick my head in the sand and pretend I don't have kids …. And then, in the thick of the dramatic moment and in times of calm, I look deep into Lillian's or Thomas's eyes and we truly "see" one another. We each know that there's no need to play games or "do" drama …. that's not who we truly are …
2015 update:
It's been 2 years since I posted this. It served as a good reminder when it popped up in memories. I'm still working on the blog post about the current journey with Ms. Lillian. I'd love to say that this got better. Yet, in fact it got worse (the melt downs became volatile last December 2014). We are making really good progress with psychotherapy (focused on mindfulness, recognizing emotions, and CBT).
Thomas does indeed still have anxiety when she has a meltdown turned explosion. Yet, he has learned the art of distraction. He tries his best using this method. Plus, he's even used it on me! It's been a journey of growth and learning. It's been perfect and is happening exactly as it should be! Lillian has been the teacher that brought mindfulness into our life and that is a true blessing! Hugs to all y'all! xoxo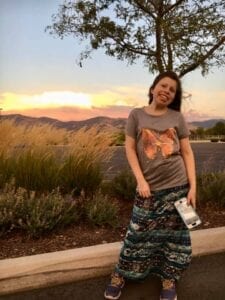 (Recent photo of Lillian, on one of our walks)
**September 2020 Update** 
I'm happy to write that things have gotten better! Lillian began using botanical oils in 2017, and once I got the dosage and timing figured out, it has helped tremendously. She still does have the occasional volatile melt down, but not nearly as often. I'm sure that maturity has helped a bit, too. Yet, still waiting for that to kick in a bit more.