December 13 2020
I just had to take a photo as it is so cozy. 💚🎄❤️ Well, maybe I've taken about 10 photos, or more … 😂🤣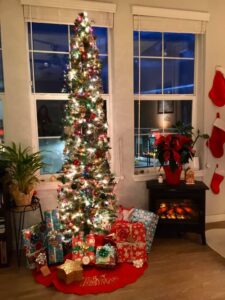 December 18 2020
So that Lillian could see the rare double planet conjunction before it's gone, we opened a couple of gifts this morning. She got astronomy binoculars with a tripod stand. These are the hugest binoculars I've ever seen! We can see the trees on Mt Rose!!
I needed time to figure it all out before the rarity is finished! 🤣😂 Thomas got a brand new phone. He's always used hand me down phones, and his was about to completely die! Yay!!! 💚💚💚🎄🎄🎄❤️❤️❤️
Huge binoculars!!! I've got to get the tripod set up so we can adjust the focus. They're hard to hold completely still with your hands. Lillian definitely wouldn't be able to hold them. We're so excited to see the moon and the Christmas star!! I researched pros and cons between astrology binoculars and telescopes, and decided these would be better for her. 🌚 ✨ 🪐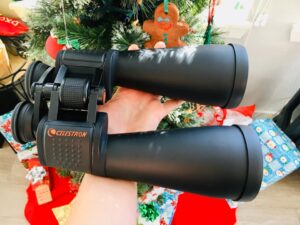 Lillian has wanted a telescope for about 5 or 6 years. I'm thrilled to be able to finally get her something to look closer at the planets and stars! You can find some great articles online comparing the two. Honestly, I needed something I could figure out, also. I haven't had much luck with telescopes!!