And then there was this lovely surprise yesterday … Thank you to Helen of Pink Quill Books!! I appreciate YOU! xoxo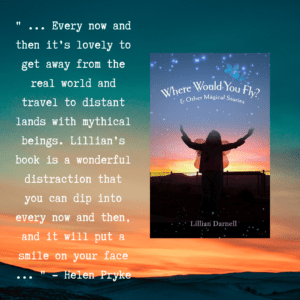 "My review for Where Would You Fly? & Other Magical Stories by Lillian Darnell, 5/5 stars.
The first line of the blurb for this book reads:
Welcome to the radiant imagination of Lillian Darnell, a wonderful and unique human being, the kind who comes around only once in every 56,000 births, as she is missing the short arm of her 18th chromosome.
I thought it was the perfect introduction to my review. Her stories are full of imagination and wonder, as you see the world through her eyes from age 4 (written with a little help from her mum, Camilla) to age 16. Some are gentle guides to mindfulness, others to how to be happy, and most are delightful stories with fairies, unicorns, and magic.
I have to admit I found the Emotions and Feelings part particularly touching, where Lillian explores her own emotions while growing up. Her condition, and her journey which led to the publication of this book, are explained in the introduction by Camilla, who is also a wonderful poet, and a beautiful person. Her dedication to Lillian, and her son Thomas, is evident through the stories Lillian has written and the love she has for her family.
Every now and then it's lovely to get away from the real world and travel to distant lands with mythical beings. Lillian's book is a wonderful distraction that you can dip into every now and then, and it will put a smile on your face. Many thanks to Camilla, Lillian and Thomas for the chance to read Where Would You Fly?"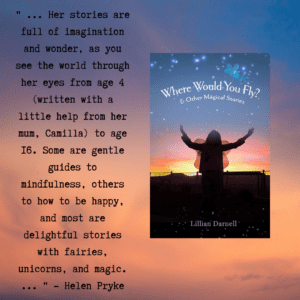 To learn more about the book, go here …