September 14 2021
We started the celebration this morning with opening gifts. Happy 20th Birthday to Lillian Darnell!!!! An iPad and case from me, The Romano Duo, Grandpa Robert, and herself (it was a team effort), a great new shower curtain and sparkly curtain rings from The Romano Duo, a photo book with 2016 photos (in the mail, on the way here) scissors, and a rainbow crystal from me, and a card from Thomas.
Join us and help Lillian celebrate her 20th birthday! I remember having dinner with the Miller family at the Colorado C18 Conference. Matt said that Team TLC would make a great reality TV show, or something like that. Proof of that right near the beginning of Lillian's live birthday event, via Thomas and an event he was supposed to be attending.
After the gifts, it was pool time! Happy 20th birthday Lillian Darnell!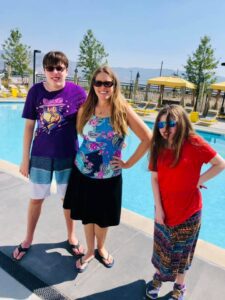 After pool time, it was back to our place for cupcakes and cheesecake. 🎉❤️😋😋😋❤️🎉 Always lots of photos of blowing out the candles as it wasn't until 2012 (I think) that Lillian was able to blow out candles.
We ended the Lillian Darnell 20th birthday celebrations with favorite fries to go along with dinner, a drive for a favorite dessert, and then a night time walk.
Thought I'd share something tangible to show the importance of the research that the Chromosome 18 Research Society performs. Lillian is one of those pink bars in the first image. We don't just get general information having to do with Lillian's deletion, we get specific information because of the research performed, and the families who have donated blood to be studied, completed questionnaires, and the sharing of information.
Lillian likes to have a birthday fundraiser for our beloved C18 every year. If you feel moved to help further the research they perform, here's a link to the fundraiser … https://www.facebook.com/donate/255607943084820/ … Thank you! The facebook birthday fundraiser is over, but you can always donate directly to Chromosome 18, making the donation in Lillian's name. Go here for that … https://chromosome18.salsalabs.org/donate/index.html
I can also send an email to someone at the Research Society with this question, and receive an answer back within 24 to 48 hours (usually faster) … "I'm watching the Gene Dosage Map #1 Youtube video on the website. I'm trying to find the exact molecular coordinates for Lillian's deletion. Was that something that was determined as being a part of the study?" Pretty amazing, huh? I'm headed to bed now. I'm tired!
September 15 2021
Only one day late! 2016 was a really fun year, and I'm way behind on doing something with the photos. Turned out great!
Link to see the entire photo book … https://www.mixbook.com/photo-books/interests/blank-canvas-25676443?vk=2vBIYhVdDx9KCtsG76Ss