**THROWBACK POST**
July 27 2015:
Breaking, Fabulous, Wonderful News!! While I was in a session today, Lillian Left the Room All By Herself, Got On the Elevator, Went to the Lobby, Sat in a Chair and Waited for her Friend to Come Meet Her!!! Holy Heck!!!
If you are out and about tonight or having a night in, please share a toast, a hallelujah, and celebrate with me!!
Wahoooooo!!!!!!!!!! I'm so excited!!! Now! For ladies night! Time to celebrate with some very amazing and wonderful women!
(This was during the 2015 Chromosome 18 Conference. As you can tell, it was incredibly exciting!)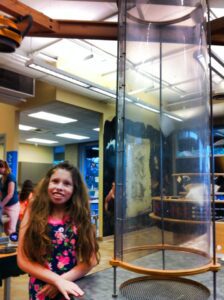 (Lillian – August 2015 – The Discovery Museum)