Had a busy day working on getting my book ready to submit for printing in a few weeks! Began the evening with a yummy dark chocolate almond milk and banana shake with a secret ingredient! Oh, this was so good!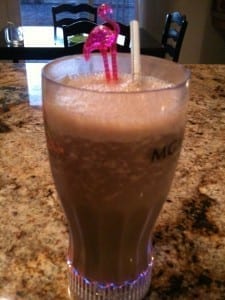 Thomas read Deputy Dorkface: How Sugaropolis Got Dessert Back (amazon affiliate link). He said it was so good he was going to read it every day. I don't agree 100% that it's that good. Moral of the story is awesome. I just don't care for what led up to the moral! I think he likes how colorful the illustrations are in the book and it's all about sweets and desserts!
Friday night is what we call pallet night around the Team TLC house. I make a nice cozy "bed" on the living room floor and they get to camp out there for the weekend! Lillian and Thomas look forward to this all week!