January 17 2017:
"If we had a house made out of chocolate and potato medallions, I'd live there forever." ~Thomas Darnell ….
They kind of like the new way I've been cooking potatoes; slicing similar to scalloped potatoes, tossing in olive oil, sea salt or pink salt, ground ginger, and fresh rosemary and baking in the oven.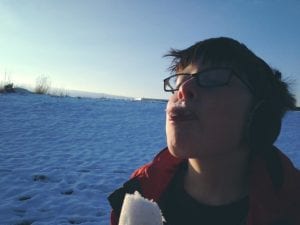 I agree with Thomas. It was such a satisfying dinner tonight. I felt so deeply grateful with a happy tummy. I had curry soup made with potatoes, carrots, and butternut squash with a side salad of cucumber, beets, black olives, onions, pickles, and nutritional yeast topped with a fig balsamic AND some of those yummy potato medallions too!!