December 14 2017:
The best time to make a post office trip: 10:30 at night! One Biggest Little Photographer book on the way to Virginia!! Have fun Mr. Minifigure man!
We also found out how many times we can drive around the round-a-bout before feeling dizzy. Four. That's it!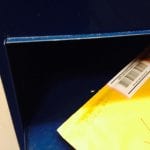 December 15 2017:
Homeschool swimming day at Carson Valley Swim Center! Thomas is having a great time! What a fun place and a beautiful drive to get here too. Lillian opted for some quiet alone time as it's kind of overwhelming in here.