October 14 2018:
So yummy breakfast this morning! Wild blueberry pumpkin pancakes with a side of skillet fried red potatoes and sweet onions, topped with Daiya cheese and a ribbon of ketchup! Incredibly good! 🎃
October 18 2018:
Just got done wearing my Boogie Shoes, Letting it Whip, giving the Best of My Love, and almost Upside Down … That was a FUN dance party!!
Brought back memories of dancing all throughout my life. I love me some dancing! I can totally bust a move! xoxo
Cloud Dancing with the Full Moon – Photo Credit: Me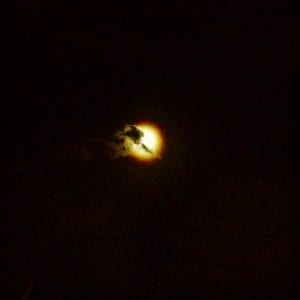 October 20 2018:
Thank you Reno Buddhist Center's Moon Rabbit Cafe and all of the volunteers for tonight's "Pay What You Can" dinner! Latin Harvest Moon Rabbit Cafe Dinner was delicious!
We began with fresh salsa, tortilla chips, and cornbread with Mexican hot chocolate. I absolutely loved the salsa. So good!
Main course of black bean tacos for me and chicken tacos for Thomas, with a side salad and Spanish rice. That was The Best taco I've ever had! Yum! Followed by dessert of vegan apple crisp. 🧡🧡🧡