December 25 2018:
Merry, Merry!! Joy, Joy!!! Oceans of love!!! 💚🎄❤️🎄💚🎄❤️🎄
My non- traditional Christmas dinner!
Beyond Beef Burger topped with romaine lettuce, cherry tomatoes, hot and sweet jalapeños, sautéed crimini mushrooms and sweet onions with a side of roasted delicata squash. Patty made me my own batch of potato salad! Yum!! Washed down with blood orange Italian soda.
And, another of Frank's virgin Bloody Mary.
My homemade gift to Thomas. Favorite color is a shade of aqua and favorite color combination is yellow and white. xoxo
That is Thomas
A beaming smile
To light the way.
A mind that
Craves to know
The why, the how.
A heart that
Thumps, thumps, thumps
With the wonder
At every pondering.
A young person
Making way
Through this
Crazy thing
Called adolescence.
Conversations,
Never dull.
Conversations,
Always full of passion.
A beautiful
Shining human
That is this one
That is Thomas.
Love,
Camilla🚀💞
Mom
xoxo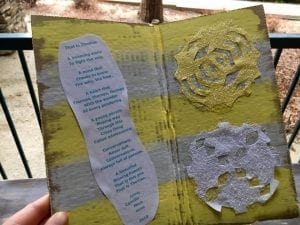 My handmade gift to Lillian. Her favorite color is blue, favorite color combination is rainbow colors, and she loves glitter and sparkles.
Magical Fairy Drops
She is a fairy
A fairy whom
Likes a berry.
She is a fairy.
A fairy that's
Definitely not hairy.
A lover of shadows
A lover of weather
She is a fairy.
Inspired by the sparkles,
Lifted by the rainbows,
Delighted by the
Pink and orange sunsets.
Eyes shining bright
To behold the
Beautiful sky.
All aglow with
The sighting of
The magical moon.
Icicles, dew drops,
Puff balls, fresh snow,
Spring flowers,
Summer showers,
Autumn leaves
These are a few of her
Favorite things.
She is a fairy.
She is Lillian.
Love,
Camilla💙🌈
Mom
xoxo
2018
Handmade gift for Frank. His favorite colors are blue and orange. xoxo
The Italian Named Frank
Always ready
To celebrate
And to do it
With flair!
Good food and drink
He's always happy
To serve up.
Willing to help,
Ready to give hugs,
With much love.
One whom can
Be counted on
To bring along
The silly side
Of any holiday!
Fra-gee-lay … it must be Italian!
It's a Major Award!
Merry Christmas, The shitter was full!
Love,
Camilla😜💖😂
xoxo
2018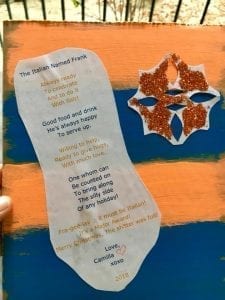 Handmade gift for Robert. One of his favorite colors is green. 💚💚💚
Handmade gift for Mom … Patty. One of her favorite colors is merlot. This was as close as I could get. xoxo
Ode to Patty
Always there,
Always with
Love to share.
Always with a
Comfy and cozy
House to share.
She makes
Us giggle
She makes
Us wiggle …
She makes us wiggle?
Well, not really, yet
That's the word
That shot forth!
Deeply for her
Family she
Does care.
Always there,
Always with
Love to share.
Love,
Camilla 💖
xoxo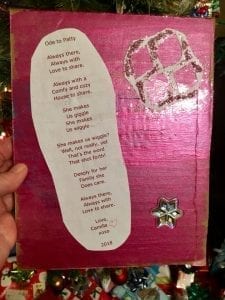 Handmade gift for Carolyn. Her favorite color is purple. Love you dearly, SongBird …. 💜💜💜
Dearest Carolyn – SongBird,
To have someone
such as you
to hold a mirror
so that one may
fully see the path
she has travelled
and continues to travel.
To have someone
such as you
shower your kindness
and generosity upon she.
To have someone
such as you
to share what
she needs to share
knowing it only
deepens the relationship.
To have someone
such as you
is a blessing
of the highest
and brightest.
I am blessed
by our friendship
I love YOU
Yo Cosmic Sista!!
Camilla – LoveSeed 💖
xoxo