February 1 2019:
Lillian and Camilla January 2019 date day.
First stop: Fries for Lillian, bright red shortbread cookie for Lillian and vegan chocolate blackout cupcake for me. 😋😋😋
Next up, shopping for lip balm for Lillian. She chose Mongo Kiss Peppermint and she let me try it last night. Good choice!! 💙💙💙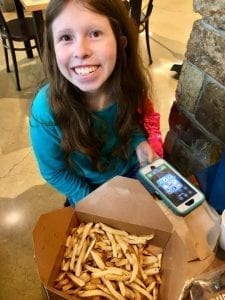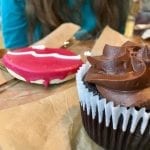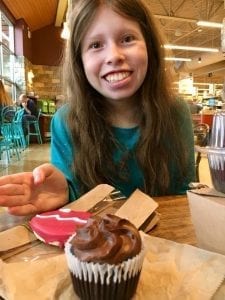 Ended the date with a long walk where we used to walk in 2014 and 2015. I am deeply blessed and grateful that she still loves to go walking with me. 🙏💖💖💖🙏
Most of you know that Lillian has a deep, irrational fear of dogs (and all animals). You can see in this picture of her, that's she's not wearing her usual glowing smile. This was about 10 minutes after she was "attacked" by a dog. I say attack because that's what it feels like for her.
It was an incredibly jolly and happy dog. I tried to hide Lillian behind me and tried to get the dogs attention; but that didn't work. The happy dogs seem to be attracted to her!
It was very traumatic and took her hours to recover. When the dogs young girl human caught up to the dog and us, she was nearly in tears as she felt so bad this had happened.
Lillian has been reading about dogs to help with this fear. Yet, it is not getting her there. Hopefully soon she will be ready to visit with a friendly, very mellow dog. Perhaps that will help. We go for so many walks, and encounter so many unleashed dogs, she really wants to get past this. 💝💝💝