December 13 2019:
Got the proof book about 10 minutes ago! I open the package and see it for the first time with all of YOU! Never mind how tired I look, or that I nearly cried when I saw it. YAY!!! It's here!!! It's here!! Deeply grateful!
December 14 2019:
Carolyn R Smith! Look what I found on page 42! Love you! 💗💗💗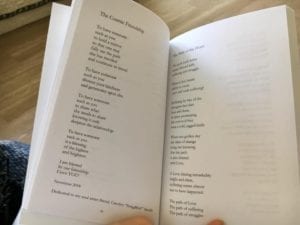 Thank you Thomas for taking photos of me with the proof book. Nearly done reading it and all is looking great! Plus, a blooper photo showing my favorite shoes … bare feet! HA! It's looking like the launch of the book will be this coming week!