June 22 2020
Lovely walk early this morning. Much, much bird song and bird chatter to be enjoyed. Wonderful way to begin the day.
June 23 2020
Beautiful walk early this morning. The early morning sunshine has a serene glow. So peaceful.
June 24 2020
It's turned into a bouquet of roses! Thank you to the beautiful Life of the Party roses. Living up to her name!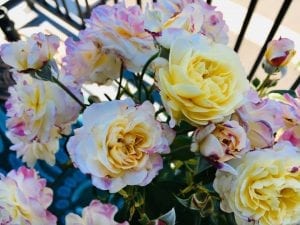 June 24 2020
Gorgeous sunset last night. And, Lillian's first lengthy walk at our new place. Perfect!
June 25 2020
The sky last night was amazing. So gorgeous that I didn't want to take my eyes off of it.
June 26 2020
Lovely walk yesterday morning. It was wonderful to visit our old neighborhood. Four years of walks taken around this wee lake.
June 27 2020
This cutie pie has her first bloom! Yay!!