Thomas lost his green card in the last few minutes of class today. Poor guy was devastated! Each child gets a green card at the end of class for staying on the green light during class. After they've collected 30 green cards they get to choose an item from the treasure box.
His teacher and I have an additional layer also. Each morning I text Mrs. O'Connor with what Thomas is earning for keeping his green card. Sometimes, it's getting to stay after school and go to Kids Zone, sometimes an extra five minutes before bed, sometimes a special sucker. This method is working great; but he does still stumble. Usually on a Monday or after having been on break for an extended period of time.
His day got much better though! After we dropped Lillian off for her therapies we visited the Sparks Library. Discovered yesterday it's only five minutes from the therapy center! I've been sitting in my car all this time working and I could have been at the library! YAY!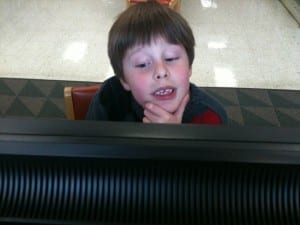 We collected Team Member L at 4:00 and headed straight to his first acting class at Take 2 Performers Studio! This child was so excited, he could hardly stand it! The kids got to be spies on the way to the classroom. Took a quick picture before I left!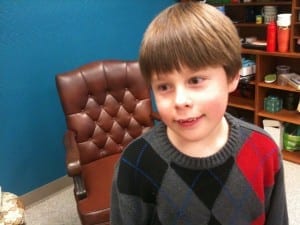 I was informed by Thomas when picking him up from acting class that we had to celebrate his first night of acting class. I hadn't been prepared for that, was ready to get home and only had six dollars. I was hoping the bakery on the way to our house was still open, but it wasn't. Only other places were McDonald's and Subway. So we stopped at Subway, got a footlong BMT and a double chocolate chunk cookie and he was one happy kid! Here's to you kid! I LOVE YOU!