Volcano eruptions, Tinkertoys, playing at the park and family reading night . . .
This was GREAT fun! Thomas received this, Star Wars Science – Mustafar Volcano Lab
, (amazon affiliate link) as a birthday gift back in November and we just now had all the "ingredients" to conduct our volcano eruption experiments!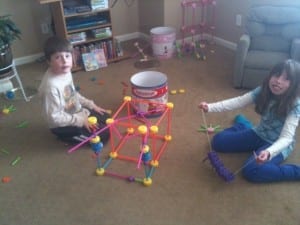 Team member T and L both got a set of Tinkertoys from Santa. Lillian got the Tinkertoy Classic Construction:Girls Pink 200 Pc Tinker Toy (amazon affiliate link) and Thomas got the Classic set to avoid getting them mixed up. They are absolutely loving them. Literally hours are spent building and creating with these great toys that encourage use of the imagination.
Went to the park for about an hour and played, played, played. Then home for dinner and reading night!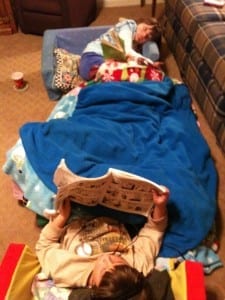 Love, Love, Love our Family Reading Night! An hour of quiet and all of us reading . . . pure bliss! I was reading a book titled You…, (amazon affiliate link) Thomas was reading, Scientific Progress Goes ""Boink"" (Turtleback School & Library Binding Edition) (Calvin and Hobbes (Pb)) (amazon affiliate link) and Lillian was reading My Pants Are Haunted! (Dear Dumb Diary, No. 2) (amazon affiliate link). Thomas says "Scientific Progress" is funny and Lillian says "My Pants are Haunted!" is funny and good! I highly recommend "You…". Very thin book, a quick read and useful content!