October 21 2016: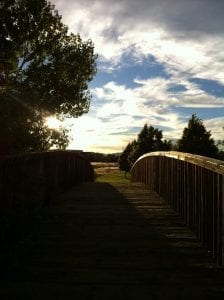 Working on backlogged tasks and came across this post from July. As I read it again and re-visited the feelings and words, I was moved to share with you. I love when I let myself share and write from the heart … Go here to read or save this post and come back to it later!
"It has been a path of confronting feelings about my own self-worth. A path of knowing the deep intrinsic worth of simply BEing. A path of peeling back layer after layer after layer after layer of thoughts, beliefs, and ideas that have compounded throughout this life … and smothered the true me.
"And she said, I'm ready to live this life with abandon and joyful bewilderment … I'm crossing that bridge." ~Camilla Downs
May you take this as you need to receive it. Perhaps a calling to begin questioning why you are doing what you do, what is causing you to make certain decisions. Perhaps to reinforce why you seem to be "bucking" the system, or going against what others think you should be doing.
Perhaps simply to be told that you are loved, you are loved, you are loved and to stop judging yourself." ….. Go here to read the entire article …