January 9 2017:
Just love the smell of fresh sliced cucumber. So refreshing! xoxo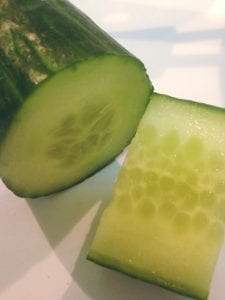 January 11 2017:
Made these for myself thinking Thomas and Lillian wouldn't want them. Should have made more!
Baked russet potato medallions with olive oil, pink Himalayan salt, black pepper, and ground ginger. Yum!!!!
I have an electric oven and baked them at 425. I started checking them after 15 minutes and every 5 minutes after that, rotating the pan each time. The first time I made them it only took 20 minutes. Next time it took about 30. Must have sliced them thicker as I just eyeball the slicing.