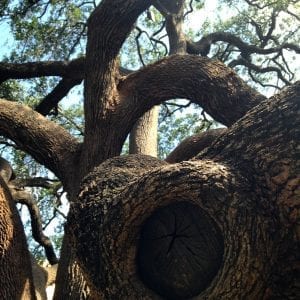 Eye to Eye
by Camilla Downs
"Your limbs higher than
Can be conceived.
Evokes within,
A primal urge
to raise my limbs
as yours,
while feelings of knowing
brew and bubble deep
within the very depths of my soul.
With limbs raised,
Eyes gently closed,
The lips are parted
and out flows the sound
and feeling of the all knowing
all one, divine love.
Standing next to you,
Eye to eye,
Standing next to you,
We feel our oneness." ~2017, Lessons from Nature
(Picture of an amazing tree at The Alamo – July 2016)