April 5 2020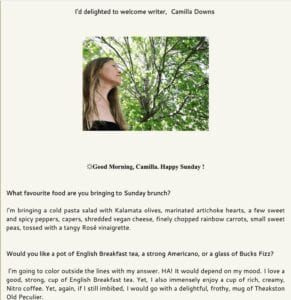 Thank you to Jo for inviting me to a virtual Sunday Brunch this morning. What fun questions! What food, drink and literary hero did I bring with me? Let's see …
"What's the oldest book on your book shelf? I can't just list one as I love old books! 
Here are the four oldest on my shelf.
1883 – Treasures of Use and Beauty: An Epitome of the Choicest Gems of Wisdom, History, Reference and Recreation
1884 – One Thousand and One Gems of English and American Poetry
1876 – Emerson's Essays
1894 – Representative Men by Emerson
Which book do you really want to read but haven't had time for …yet!"
Follow the link below to read further ..
https://jaffareadstoo.blogspot.com/2020/04/sunday-brunch-with-jaffareadstoo.html?showComment=1586099829983&fbclid=IwAR1eQs0yZBY0OVv-nbHmxjTORnqekxofEZWtICwChi-kp3R5nLj15_EklAA#c1392860966025559484