January 7 2018:
Just finished a solo dance party …. The Bee Gees, K.C. & The Sunshine Band, Chic, and Lipps Inc …. Felt so good!
******************
Ending the day with a food-for-the-soul book and a juicy, crisp Fuji apple. xoxo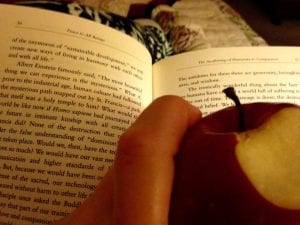 January 8 2018:
Veggie Chili tonight …. from beginning to end. So beautiful. And delicious with a piece of sour dough garlic bread! Mmmmmmm ….. xoxo
January 9 2018:
Peace. And. Love. And arts and crafts with Lillian.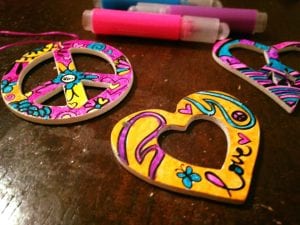 January 10 2018:
The stuffed little vegan chili burger that could ………..
.
.
.
.
.
……. fall apart with the first bite!!!! So, so yummy!!!
Foodies artichoke burger, sautéed sweet onions and mushrooms, Roma tomato, mustard, ketchup, sea salt, black pepper, sweet & hot jalapeños, a dollop of my veggie chili, and romaine lettuce …. all snug inside of two slices of garlic sour dough bread with a cute lil kosher dill pickle.
I knew there was a reason I chose a bowl instead of a plate. Ha!!!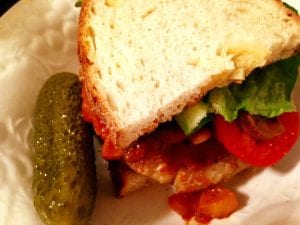 Lillian and Thomas are not vegetarian. I made a cheese, mushroom, and onion quiche for Thomas (which I haven't made in years and years). I mostly don't eat eggs so he gets it all to himself!
Thomas moans and groans about me being vegetarian leaning towards vegan; yet, he will scarf down that yummy vegetarian goodness!! Steals my food all the time! I prefer to let them make their own choice about becoming vegetarian. I am at about a year and a half of being vegetarian.
January 11 2018:
It may look odd, yet it's one of my favorite dessert type treats. Frozen wild blueberries in almond milk. Some of the milk freezes into blueberry milk ice chunks. I let it sit for 5-10 minutes before devouring! Yum!!