March 25 2018:
Lillian and I had a fun walk this afternoon. Kicked pinecones for half of the walk … that's a workout!! It was a wee bit windy, yet beautiful and quiet.
March 26 2018:
Solo walk this morning …. The egrets are back! YaY!!! Just adore the variety of visitors to the lake. He posed for me too. Good job handsome! It was a cold, yet beautiful walk.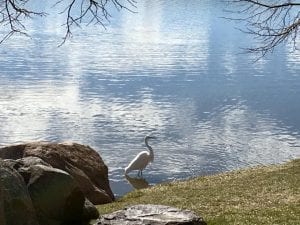 March 29 2018:
Solo walk this morning. Shadows, a crow, and blossoms. That's definitely a story and I'm in the midst of it. Nature speaks loudly of silence and Knowing.