May 25 2018:
from Lillian ….. to fundraise … xoxo …. "I've decided to sell prints or copies of the Egyptian Eye once again to fundraise and help my family attend the annual Chromosome 18 conference. The print will be about an 8 X 10 and mounted on foam board or similar ready to hang.
The Chromosome 18 conference helps me get over my fears and my emotions. It helps me feel brave, courageous, and enjoyable. Here's an example: Last year in July when my family and I were inside the airport, I was fearful, nervous, tired, and afraid; yet, the view I got from the airplane was amazing and it was all worth it.
Here's a story inspired by The Egyptian Eye: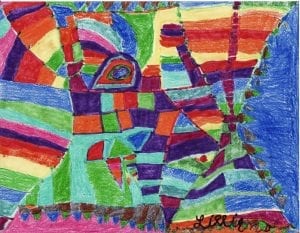 The Wise Sultan and The Camel
Once many years ago, a camel walked in the Egyptian desert. The camel wondered if it had an Egyptian eye. So the camel passed a wise sultan who was on his way to a faraway land named Butterfly Land.
The camel asked, "Do you know if I have an Egyptian eye? I've been wondering for years now." The wise sultan chuckled and said, "Certainly seems like you have an Egyptian eye but it is up to you to decide."
The camel said …..
Fundraising for the 2018 Chromosome 18 Family Conference – The Egyptian Eye