**THROWBACK POST**
October 23 2013:
A little something Lillian wrote yesterday in OT … Many of you know of Lillian's obsession with the weather. She watches the accuweather videos every night before bed and must tell me the humidity before going to bed. If she forgets she will get up and come to my room to tell me. So this had my eyes wanting to sweat … xoxo
Witch Creation – A myth by Lillian
Once upon a Halloween, a witch was born on October 31, 1899 and she had a pet named Angelic.
When she grew up, she had a witch-daughter that was born on October 30, 2013. Her name was Marcia Angel-weather. When the witch-daughter was 19, the witch learned that she had weather magic instead of Halloween magic that scares people from her clever daughter Marcia. So Ms. Angel put an alarm on her rose so she knew when to change the weather. She's still out there changing weather and she can be seen in the clouds. They all lived happily ever after.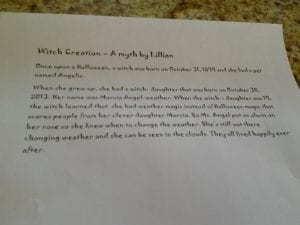 This story and many other stories, poems, and tales are included in Lillian's debut book published January 2018! Go here to learn more and get your copy!