**THROWBACK POST**
August 29 2013: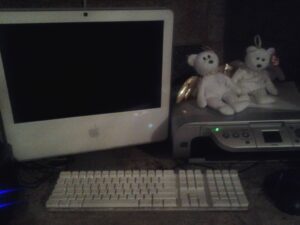 Found these two angels sitting next to the computer as I was turning the lights out for bed. Asked Lillian if she put them there and she told me yes and that they were giving her ideas! Turns out they indeed were …. (I think I may have some angel bears sitting next to my computer tomorrow!)
The Island Princess and the Prince
Based on stuffed bears
By Lillian
Long ago, there was a queen named Lila and had been wishing for a baby for 4 years now and she got her wish. She was so happy that she named the baby "Princess Lila 2". But she had lost her daughter and she was very sad…
10 years later….
Lila had thought her name was Lil and she was surprised to see that she could talk to animals.Then one day a stranger named Frank who is actually King of where she used to live. He wanted her to come but her animal friends wanted her to stay. Then she remembered her name was Lila for short because her real name was Liliana. Then she met her mother then after they had reunited and then Frank and Lila got married and lived happily ever after.