November 7 2021
Sunset.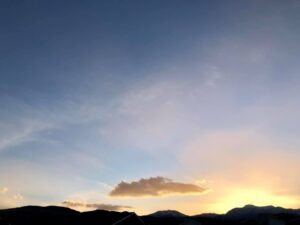 November 9 2021
More lovely clouds today. The Stanford Neurodiversity Summit just concluded. Three days of tons of information, resources, feeling seen, and validated. I am literally wiped out. I need three days to recover.
November 10 2021
Operation decompress. A swim, followed by a soak. Ahhhhh ….
November 11 2021
Operation decompress continued. How can the view on this short drive not help to brighten one's mood? I really love where I live.
I highly recommend forest walking. Thank you trees! 💚💙🌲🌲🌲💙💚 And I got to hear Frankie Goes to Hollywood and Prince during the drive home!